CONSTRUCTION OF EXTENDED ROUTE 319 AND INTERCHANGE OF HCMC – LONG THANH – DAU GIAY
Route 319 and the interchange of Long Thanh – Dau Giay have been completed the investment procedures and are conducted site clearance. The total investment is about 750 billion dongs. The project is highly constructed in 2016 and expected to complete in the first quarter of 2017. The connection of traffic from the route 319 and access roads to ports and Nhon Trach IP will effective after the fee is charged.  An effective project is coming and will certainly succeed when deploying with promised exploitation potential.
GROUNDBREAKING CEREMONY OF EXTENSION ROAD 319 AND INTERCHANGE OF HCM CITY- LONG THANH-DAU GIAY
Cuong Thuan IDICO Corporation organized the groundbreaking ceremony of construction of extension route 319 and interchange of HCMC – Long Thanh – Dau Giay highway on August 28th.
The project has the beginning point at the Ben Cam junction (Phuoc Thien commune, Nhon Trach district) intersecting with provincial road 769 (now Ly Thai To street) and the end point at Ho Chi Minh city-Long Thanh- Dau Giay highway at Km19 + 711.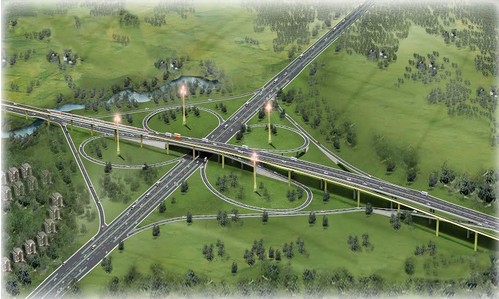 The total length of the project is 9.46 km, of which the main route is 2.4 km long and 16 m wide and the branches are 7.7 km long and 8 m wide. The route is designed with a speed of 70km/h and 40km/hour for the branches. Total investment is nearly 670 billion. It is expected to complete by 2017.
The project has three important interchanges with the most one between route 319 and HCMC – Long Thanh – Dau Giay highway, which is designed in form of rose-shape. The interchange with the form of semi rose-shape will be completed in phase 1 with the branches from HCMC to Nhon Trach and reverse and from Nhon Trach to Dau Giay and reverse.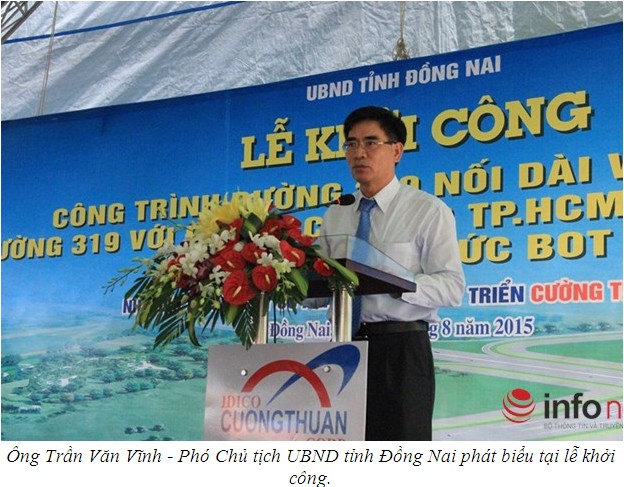 In addition, there will be four bridges that will be built including: highway overpass (interchange with higway), Dong Mon bridge, Hang Dieu 1 bridge (left additional branch of Dau Giay - Ho Chi Minh city) and Hang Dieu 2 Bridge  branch of HCMC – Nhon Trach).
Mr. Tran Van Vinh, Vice Chairman of the Dong Nai province People's Committee, said: "This is a important interchange to boost industry and urban in Dong Nai province, especially, Nhon Trach District. Mr. I suggest departments and agencies for cooperation and Nhon Trach district for completion of site clearance procedure to hand over the ground to the Investor. The Investor must also execute the construction and ensure the quality and progress".
Speaking at the ceremony, Mr. Tran Nhu Hoang- Chairman of the Board and Mr. Nguyen Van Khang- Vice Director of Cuong Thuan Idico Development and Investment Corporation( Investor of project), after the project is completed and put into exploration, it will promote efficient on the direct connection of the Route 319 with Highway shortening the route between Ho Chi Minh City and Dong Nai Province, Ba Ria-Vung Tau. Cuong Thuan IDICO will make effort to complete the project on schedule, strictly implement the investment regulations, ensure the progress, technical standards, construction quality and labor safety.
Field of activity other