CONSTRUCTION INVESTMENT PROJECTS FOR BYPASS OF BIEN HOA CITY
On June 27, 2014, the Ministry of Transport issued Decision No. 2455 / QD-BGTVT charging fee at the National highway 1 1841+ 912km to return the capital for the construction project of National Highway 1 and bypass of Bien Hoa city, Dong Nai province according to the form of BOT contract.
Accordingly, the company has followed the decision of the Ministry of Transport to charge fees from 0 hours 06/07/2014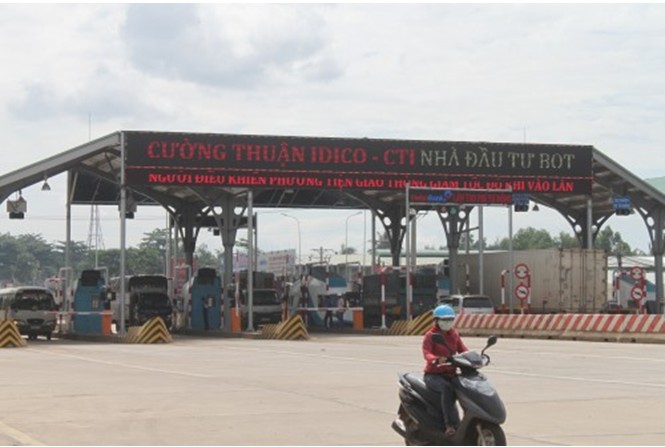 The rates, the fee mode, manage and use charge of the road shall implement with the provisions under of Circular No. 37/2014 / TT-BTC of 25/02/2014 and Circular No. 159/2013 / TT- - BTC dated 14/11/2013 of the Ministry of Finance.
During the implementation period, the Company has implemented measures to ensure that there are no traffic jams in the BOT, ensuring traffic safety and labor safety for staff members to collect the fee
GENERAL INFORMATION OF THE PROJECT
The project consists of two phases
Phase 1: Renovate the foundation, the road surface of National Highway 1, section
Km1841 + 000 to Km1851 + 714, with total length of 10.7 km. The investment
scope consists of excavating the two sides of the road, constructing all layers from
the foundation to asphalt concrete coat after improving the road surface to cover 4
lanes; supplementing and completing the entire water drainage system and
completing the infrastructure for protection and traffic safety.
Phase 2: 2: Rebuild National Highway 1 from the intersection Km1851 + 714
National Highway 1 to the intersection Km5 + 000 National Highway 51, with a
length of 12.2 km. The scope of the construction is to completely rebuild the road
with the width of the road is 23.6 m, the width of the road surface is 20.5 m; The
railway overpass is 232m long, 13m wide; Bridge No. 3 is 25.54m long and 21.5m
wide; Suoi Quan Bridge is 25.54m long, 26.1m; also build vertical drainage and
horizontal drainage systems, lighting and protection works, traffic safety in
synchronization with the road.          
The total investment:: 1.506.305 billion
The project was audited by the State Auditor (Decision No. 570/QD-KTNN dated 25/03/2016 of the State Auditor General) implement audit in Document No. 266 / KTNN-TH dated 02/08/ 2016.
In addition to investment and improvement of the above-mentioned segments, investors also have responsibiliy for conduct regular maintenance, repairs and overhauls as stipulated throughout the duration of the project.
Since the project has been completed and put into operation, it showed investment
efficiency, namely the reduction of traffic flow for National Highway 1 from the
project site to the crossroad of Vung Tau , especially the reduction of traffic jam in
Sat and Thai Binh market; shortening about 5 km for vehicles passing from
National Highway 1 to Highway 51 through the new opening, thus saving time and
travel expenses..
Field of activity other