CUONG THUAN IDICO WAS ASSIGNED TO EXPLOITING QUARRY THIEN TAN 10
The People's Committee of Dong Nai province has approved the policy of Cuong Thuan IDICO Development Investment Joint Stock Company (CTI) to make a documents for exploiting investment of Thien Tan 10 construction stone quarry (Doi Chua 3 quarry). The company has inherited the records of exploration and approval of reserves on the area of 79.8ha.
In the year 2017, CTI's stone business and exploitation has seen a remarkable growth with revenues of nearly 100 billion VND, increasing more than three times from 2016.
This is a field which has high profit and high consumption from construction, real estate and transport infrastructure development in the South. The prospect of this field are  expected to Long Thanh International Airport project and component projects such as resettlement area, urban area
CTI is exploiting 3 Quarries including Tan Cang 8, Doi Chua 3 and Xuan Hoa with large reserves and long exploitation period (after 2030).
Recently, CTI has launched a new stone crusher system to increase capacity by 250 tons/h, equivalent to a 40% increase from the previous capacity. This new capacity meets the strong demand of the building materials market with 2 products of granular gravel and 4x6 stone.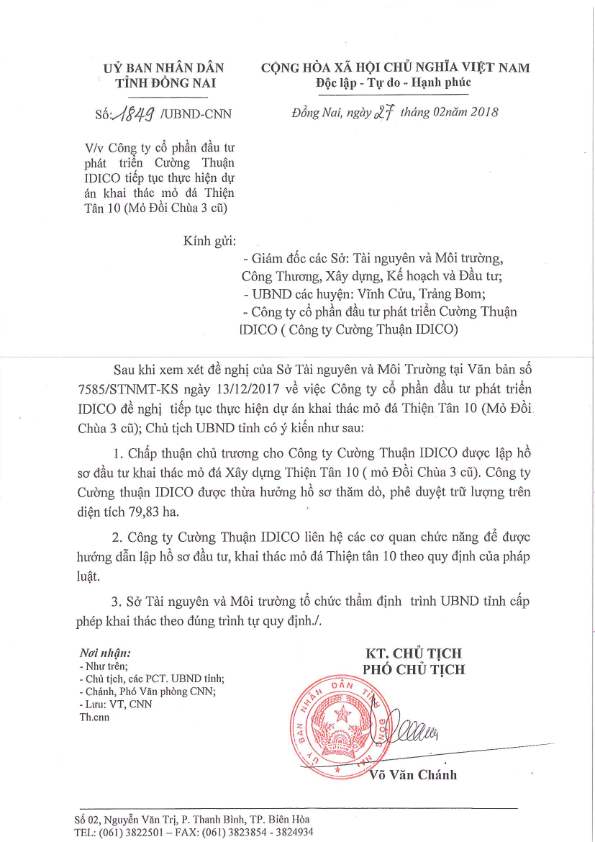 News other